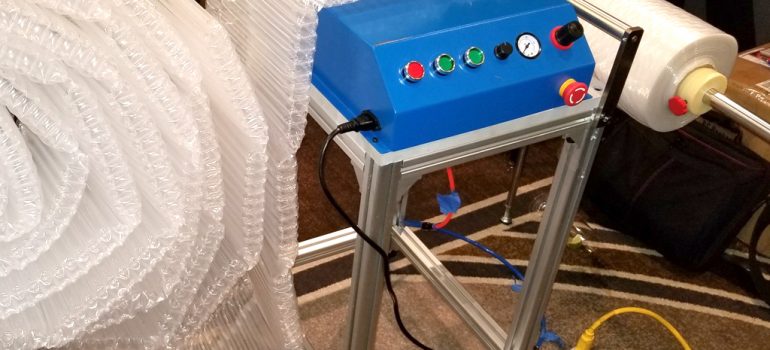 Q-Type Inflator-100
Fully Automatic Machine for use with Q-Type air chamber packaging bags
Over 10,000 bags per day
Used in semi-automatic packaging operations.
Inflates film air column products in a continuous strip format only (fan-folded or roll formats).
Industrial (high-output) Inflation Machine – this compact, high-output Inflation Machine produces wine bags or air chamber packaging pouches.
For demanding Distribution Center and Warehouse environments.
55 lineal feet per minute or 41 Wine Bags inflated per minute (estimated).
Inflation Machine Accessories: rolling cart, foot-pedal actuation, over-head Pack Station.
Used in semi-automatic air column packaging operations.
110/220v
Uses shop air or stand alone compressor (not included).
Our Inflation Machines are simple and easy to use, speeding up your production line. Just place the tip of the inflation nozzle into the "air intake port", and each "air chamber column" will fill individually and uniformly at the same precise air pressure.
Contact us today to learn more about YompBox™ inflatable equipment solutions for your needs!
We cater to: