About Us
YompBox™ is high strength, inflatable air chamber protective packaging. We are your e-commerce "box-less" air column shipping solution!
Since 2011, our foundation has been built upon in-house research and development. An ISO9001/2008 global design and manufacturing consortium offering superior air column protective packaging in multiple standard stock sizes (inflatable bags, inflatable air-chamber wrapping material, block and brace void-fill, YompBox™ COOL cold chain packaging, and our patent pending Inflatable Mailer Envelope).
Proudly serving and supplying a variety of global markets, our systems approach to inflatable on-site protective air-chamber packaging is inclusive of semi and fully automatic fulfillment equipment. YompBox™ packaging solutions are perfect for industries shipping electronics, ceramics, furniture, pharmaceuticals, toner cartridges, electrical goods, musical instruments, wines, and specialty foods.
Our air column packaging has helped to reduce DIM Weight shipping costs by 30% and warehouse space by 90%. All of our products are inflatable on-site and compliment ship-to-store, ship-from-store, e-commerce fulfillment, returns, as well as other air chamber packing and delivery needs.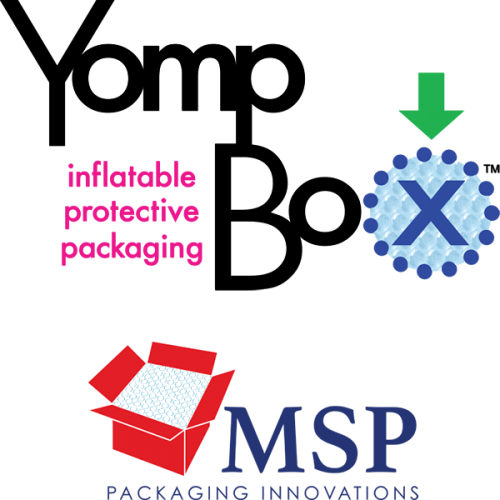 Why choose YompBox™ Air Column Bags and Air Chamber Inflatable Packaging versus other types of Packaging?
The culmination of of years of design, engineering, and an entrepreneurial spirit – our air chamber packaging products change the packaging industry with new technology, space saving design, and ease of use.
YompBox™ air column packaging, and our YompBox™ COOL cold chain air chamber packaging, has benefits that surpass many other conventional types of shipping containers and boxes.
Decreased Storage Space

The storage needs for YompBox™ air-chamber inflatable packaging is minimal, making your valuable warehouse space free to store more actual product inventory, so you can sell more! In fact, get up to 90% warehouse space reduction versus pre-formed foam packaging and cardboard! Our inflatable bubble packaging is stored flat and only inflated when you need it. With standardized and custom size availability, our "bubble-on-demand" air column inflation makes saving space easy.

Using YompBox™ air column packaging helps to simplify your production work flow and helps to decrease work space clutter. Pre-made cardboard forms, styrofoam, EPE pearl cotton (expandable Polyethylene Foam), Korrvu, and injection molded pulp forms all require a significant amount of storage space in your packing and shipping area.

Protection Type & Quality

Once your product is placed within YompBox™ air column packaging and it is inflated, your item is safe within a 360 degree envelope of protection. This makes YompBox™ the superior choice for shipping valuable or fragile goods. The independent air chambers allow for constant pressure control and protection redundancy. If one chamber were to fail, the others will remain intact. Other cushioning block and brace packaging materials require more assembly time and may only protect corners or sides. YompBox air column bags cover a multiple applications – from protecting large electronics like Computers and Flatscreen TVs, to small portable electronics such as laptops, tablets, mobile phones, and drives.

Our inflatable air-chamber packaging is also ideal for the protection of valuables, antiques, and some musical instruments. Durable and waterproof, our air column bags are great for consumer goods such as wine, liquor, specialty honey or preserves, pharmaceuticals, cosmetics, and personal care products. Fragile items such as eyeglasses, toner cartridges, dental molds and prosthesis, porcelain fixtures, glass, and ceramic items can all be protected with YompBox™ inflatable packaging.

YompBox is your source for ITAD / Refurbished Electronics Inflatable Protective Packaging. IT asset disposition (ITAD) businesses, built around disposing of obsolete or unwanted equipment in a safe and ecologically-responsible manner, can depend on our reliable air-column packaging solutions. ISTA tested and approved – meeting the stringent packaging guidelines of the International Safe Transit Association.

No Tooling Charges

YompBox™ air column bags and our YompBox™ COOL cold chain air chamber packaging do not require any tooling charges – they are ready to inflate to size when you need them. Pre-made cardboard forms, styrofoam, EPE pearl cotton, and injection molded pulp forms all require a significant investment in tooling charges to customize them for your purposes.

Superior Moisture Resistance

YompBox™ inflatable air-chamber packaging is moisture resistant and waterproof. Our air column bags are superior for damp conditions and ideal for protecting goods shipped to flood prone areas. Cardboard, recycled paper pulps, and other types of packaging can lose their integrity in humid environments.

Environmental Factors Considered

YompBox™ inflatable air column packaging is reusable for several years. This makes this packaging ideal for products that may sustain damage if shipped via conventional methods. The 360 degrees of inflated air-chamber protection decreases returns due to damage, and if a return has to occur, the packaging can be used again for it's safe return. End users can also reuse the packaging for other purposes of packing and storing items. The air columns hold their air well, and lose only about 2% of firmness over a 2 year period.

Pleasing Appearance

With many inflatable shapes and applications to choose from, YompBox™ air column packaging is also customizable with your company branding or other information. A variety in color may also be chosen – as well as options on bubble type, columns, cell widths, air chambers, and anti-static properties.

Cost Savings in Assembly & Shipping Labor

YompBox™ inflatable air column packaging and YompBox™ COOL cold chain air chamber packaging offer superb, yet lighter weight protection for reducing overall shipping costs. During the assembly and packing process, YompBox™ inflatable materials reduce the need for frequent stops to restock packing lines, as well as eliminates the extra labor needed to retrieve conventional packing materials from warehouse racks. The lightweight air chamber materials and on-the-spot air column inflation capabilities make for a cleaner and smoother overall work flow. With a labor cost savings of up to 60% – you and your workforce will also appreciate the decreased amount of hand assembly needed.

Your sales and customer service will also recognize the worth of YompBox™ packaging. It helps to virtually eliminate damaged products and minimizes return or refund requests – as your goods will be properly protected, YompBox™ inflatable packaging helps to reduce the costs of reverse logistics.

Lower Dimensional Weight

YompBox™ inflatable air column packaging and YompBox™ COOL cold chain air chamber packaging can boast a Dimensional Weight savings of up to 30% without sacrificing any product protection. This means your shipping packages are lighter and smaller – allowing for increased trailer load capacity and decreased labor required for loading and unloading shipments.
YompBox™ has the right inflatable air column packaging solutions for your industry!
Inflation Equipment
Our Inflation Machines are simple and easy to use, speeding up your production line. Just place the tip of the inflation nozzle into the "air intake port", and each "air chamber column" will fill individually and uniformly at the same precise air pressure.
Q-Type Inflator-100
Fully Automatic Machine for Q-Type air chamber packaging bags. Inflates over 10,000 bags per day.
Pillovina-100
Tabletop inflation machine designed for the retail environment. Inflates less than 300 bags per day.
REG-200
Regulator Extension Hose for individual air chamber packaging bags. Inflates less than 150 bags per day.
REG-100
Regulator Extension Hose for individual air chamber packaging bags. Inflates less than 25 bags per day.
Contact Us
Feel free to send us a message using the form below.